Urbawood Office Building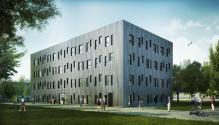 Begun in June 2012 for Nacarat (Rabot Dutilleul Group), construction of the first URBAWOOD has been completed.

Posts, beams, floors, facades and lift cage of wood for this LCB construction! Laid on special foundations, this tertiary block was assembled in a record time of 5 weeks. Designed by Gérim and Agence A, the building only awaits the internal fittings and its occupants.