Ernest Renan School – La Garenne Colombes (92)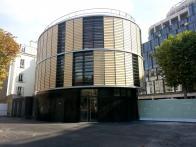 An extension to Ernest Renan School made of wood.

Elliptical in shape, this 600 sq. m. school building on three levels features a reception lobby, activity rooms and a music hall. Designed by the Foster & Partners architectural practice and built by Arte Charpentier Architects, the building combines wood, concrete, metal and a glass façade to give it a powerful iconic dimension. One of the most innovative features of this project is the early involvement of its future users in the design process through creative and educational activities.