@robase Business Park - Eragny sur Oise (95)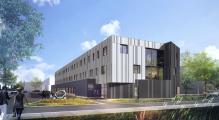 @robase HQE service sector park.
In collaboration with the Mathieu Godard firm of architects.
The PARC@robase project has to meet demanding specifications, so a comprehensive integrated sustainable development approach has been adopted. It aims to achieve high energy and economic performance levels (very high energy efficiency, rainwater recovery, etc.) as well as to enhance user comfort (sustainable flows, soft modes of transport, landscaping, etc.). The PARC@robase development features seven buildings, i.e. over 18,000 sq. m. of flexible and modular premises for offices, high tech activities, etc.